Raster Group: Production and technology
The Raster Group has been developing, producing and distributing high quality disinfectants (in liquid and tablet form), skin antiseptics for more than 25 years.

As well as disinfectants we supply the market the combined systems for aerosol disinfection (equipment and products), soap and skin antiseptic dispensers (elbow operated), the effective rodent control products.
Our main clients are: healthcare, child care, public services, aesthetic medicine, catering, food industry, veterinary, animal and poultry agriculture.
All divisions of the Raster Group are certified by Bureau Veritas to be in conformance with ISO 9001 standards.
We offer our clients the products ready for delivery directly from the producer from Ekaterinburg (Russian Federation, Sverdlovsk Region); contract manufacturing at client's label.
Raster Group has the wide experience of the import and export (we work with France, Germany, Italy, India, China, countries of the Customs Union).
Raster Group is situated in Ekaterinburg, Ural region, Russia, we have the in house production site and sales office. The employment size is 100 people.
Veterinary disinfectants
Application: prophylactic and emergency disinfection (aerosol disinfection) of veterinary establishments:
Livestock and poultry farms
Equipment and instruments
Animals care items and fittings
Biowaste
Veterinary clinics, vivariums, circus, zoo
African swine fever effective
Chlorine based products
Wide spectrum of antimicrobial activity.
Shelf life: 7 years.
Ultra sprayer R60М
Air and surfaces volumetric disinfection aerosol generator
The maximum efficiency for the respiratory and air-dust infections control (influenza, bird influenza, AH1N1, tuberculosis and other)
The aerosol spreads to all hard to reach places.
The simultaneous disinfection of the air and surfaces.
The surfaces are not wet, which is important for the high-tech equipment.
The high productivity and at the same time the economic disinfecting dosage.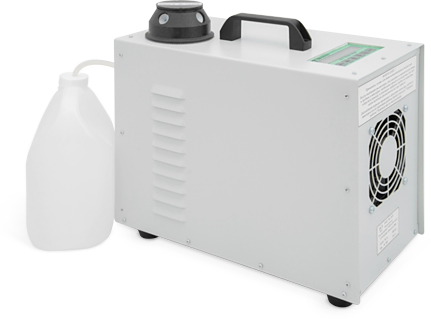 General properties:
Aerosol particles size is 2 microns
Productivity: 60 ml/min
Disinfection solution dosage: 3 ml/м³
Weight: 14 Kg
The automatic cut-in/out
Products for aerosol treatments:
Disinfection: DEZARGENT
Odor destruction: SPRAYER-ORIS
Hand hygiene
Contact us
620109, Russia, Ekaterinburg, Kluchevskaya street, 15
| | |
| --- | --- |
| tel/fax: | +7 (343) 380-49-80 |
| e-mail: | hello@raster.ru |
| Contact: | Mrs. Tatiana Putyrskaya, Deputy Director General |